Admission
Applying to IPP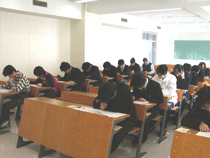 The Number of Students Admitted
Every year Major in International Public Policy accepts up to 10 new applicants (both Japanese and non-Japanese).
Application Qualifications
University or college graduates Recipients of bachelor's degree (based on Section 2-3 of Article 68 of the School Education Law (law No. 26, 1947)
Those who have completed 16 years of school education abroad
Those who have been designated by the Ministry of Education
Those who are recognized by the graduate school to have academic qualifications comparable to university or college graduate's qualifications
Entrance Examination
For more information, please visit the following URL (Japanese only).
http://www.ap-graduate.tsukuba.ac.jp.